Welcome to IntelliStitch®
IntelliStitch® is the industry leading stitch regulator since 1999. Our exclusive firing-stitch technology that reduces drag and prevents tares by forcing the needle to spend less time in the fabric on every stitch, our auto setup that learns the mechanics of your machines and automatically adjusts the system accordingly and highly accurate distance measuring encoders makes our stitch regulators the best in the industry.
How to get an Intellistitch®
Buy a New Nolting Quilting Machine
Nolting Quilting machines are the original manufacturer of long-arm quilting machines. Our stitch regulators are available on most of their models. Contact Nolting today to get your new quilting machine.
In-Studio Installation
We offer In-Studio/Home installation of our IntelliStitch® Turbo CL system on the majority of long-arm quilting machine brands. Please review our list of supported brands of machines and talk to some existing IntelliStitch customers to find out if our stitch regulator is the one for you.

We are currently ONLY scheduling installation trips in the following states: California, Nevada, Arizona, Oregon and Washington.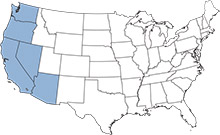 Recent Installations:
April 24, 2014 - Greenfield, MO - Gammill Classic
April 15, 2014 - Steuben, ME - APQS Ultimate II
April 14, 2014 - Harrington, ME - APQS Freedom
April, 2014 - Frenchtown, MT - Gammill Classic
November, 2013 - Minong, WI - Ultimate I
October, 2103 - Columbiaville, MI - Gammill Classic
September, 2013 - Chelan, WA - APQS Ultimate II
August, 2013 - Westbank, BC - APQS Ultimate II
June, 2013 - Bismarck, ND - Gammill Classic
June, 2013 - Rapid City, MB, Canada - Gammill Classic
June, 2013 - Roswell, NM - APQS Ultimate II
May, 2013 - Bluefield, WV - Gammill Classic
May, 2013 - Fort Mills, SC - Gammill Classic
May, 2013 - Mt. Washington, KY - APQS Ultimate II
April, 2013 - Basin City, WA - APQS Ultimate I
February 6, 2013 - King, ON, Canada - APQS Ultimate I
February 4, 2013 - Elora, ON, Canada - Gammill Classic
November 27, 2012 - Denver, CO - Gammill Classic
October, 2012 - Picayune, MS - Gammill Premier
June, 2012 - Mobile, AL - Gammill Classic
June, 2012 - Minerva, OH - APQS Ultimate I
May, 2012 - Vale, OR - Gammill Classic
May, 2012 - Lewiston, ID - Gammill Classic
May, 2012 - Indianola, IA - Gammill Premier
May, 2012 - Oskaloosa, IA - APQS Ultimate II
March, 2012 - Yuma, AZ - APQS Ultimate I
March, 2012 - West Point, UT - APQS Ultimate I
February, 2012 - Magnolia, TX - Gammill Classic
New IntelliStitch® Videos
IntelliStitch® Stitch Regulators are Available for:
American Professional Quilting Systems (APQS)

Ultimate-I
Ultimate-II
Discovery
Freedom
Liberty

Gammill Quilting Systems
Nolting (contact Nolting for new purchases or upgrades)